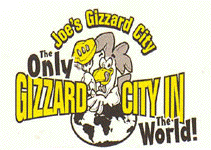 Joe's is a restaurant in Potterville, MI that has been family-owned since 1960.  The restaurant is known for its world famous deep-fried chicken gizzards, which are pressure cooked and hand-dipped in a secret recipe batter mix.  Joe guarantees these to be the best gizzards we've ever tasted. 
Joe's claims to be "the place where you truly feel at home" where "we may even ask you to do some dishes or wait on tables if you are lucky!"  There is also a warning on the website that reads  "WARNING…..  If you see the help arguing with one another just consider it part of local entertainment at no additional charge!!  " 
Joes has been featured on "Diners, Drive'ins and Dives" on the Food Network Channel.  During this episode the host, Guy Fieri, took a burger and dipped it entirely in the batter mix and fried it.  They now serve the famous burger on the menu calling it the "Triple D" after the 3 D's in Diners, Drive-ins and Dives. 
Joe has emailed us saying that he would be happy to be in the kid's video.  We plan on trying both the Triple D burger as well as the Fried Gizzards.  Other unique potentials may include the Frinkie (fried twinkie) and/or the Fried Pickle.