Archive for the 'The Skillet Trip' Category
Sunday, June 14th, 2009
The trip is now over and the children are back home safe and sound.  I have a feeling that now that they are back to their busy lives, they will not finish blogging about the last 2 days of the trip.  So, here goes…
I had given the children 2 "options" for the last day of the trip.  1) We could pick up a "mystery trip" packet from the CVB in Altoona which would contain a driving tour scavenger hunt in the Allegheny Mountains, then a hotwings challenge that evening at the amusement park put on by all of the local restaurants and finally, bat hunting at the church…  or 2) we could leave early and spend some time swimming at their great-grandparent's cottage on the way home.  The children chose option 2 and we decided that, although really too dark to bat hunt, we would try to fit in the bat hunting the day before after the day at the amusement park.
My sister-in-law (Jorden and Ashley's mother, Sharry) called the day before we were to head home and asked if we wanted to stop in Pittsburg to visit her brother, Steve.  Steve offered to get us in to the Carnagie Science Center under his membership pass.   It sounded great and this detour would give Jorden and Ashley an opportunity to visit their uncle and cousins.
The science center, located across from Heinz field (Where the Steelers play) on the river was awesome!  There were so many interactive things to do.  We saw a train exhibit as big as my house.  There was a new robot exhibit to be opened on Saturday and Justin was kinda sad that we were going to miss that so he stood and watched the robots from behind the rope.  Amazingly enough, they unhooked the ropes and opened the robot exhibit for 2 hours to do some "beta testing" with the crowd.  Wow!  We were the first ones to see the exhibit.  Here we drew on a screen with our finger and watched the robot arm create the words "skillet trip" by placing beads in divits while a table spun around.  We watched a robot play basketball on a full size court – he rarely missed.  You could play air hockey against a robot….  um, good luck with that one!  There were interactive games, an infrared heat/cold sensor, computers, and much more.  We went to a show about flambe which went with our "Skillet Trip" theme.  The guy talked about the science involved in making the flame from alchohol.  After the show he served his flambe creation on top of ice cream to the crowd.  The kids created their own piping lines, raced solar powered cars, played in a cloud maker, and much more.  I was sitting down filling out a survey when I heard the words "Aunt Dawn" in different tones to sweet music bouncing off the walls.  Everybody in the place heard it.  Matt had put those words into a drum set and was playing them fast then slow, high pitched then low pitched.  It made me laugh.  The kids went in a simulator and took a ride down the Amazon River in a spaceship.  We were sad that we had to leave as we all could have spent much more time there.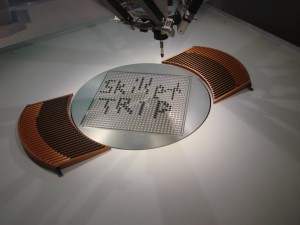 The robot arm creates the words "Skillet Trip" that we had drawn on a computer screen.  The robot creates a duplicate of our picture by placing beads into divits as the table spins.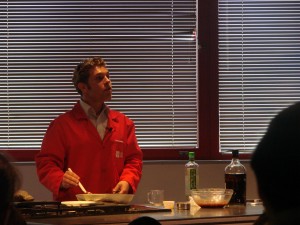 The scientist chef teaches us the science of flambe in the Kitchen Theatre at the Carnagie Science Center in Pittsburg, PA.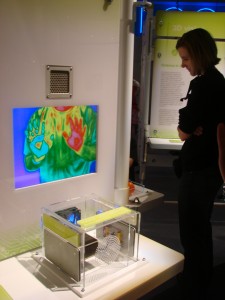 This is an infrared heat sensing image of Jorden's hands.  One he placed on the cold pad (the blue image) and one he placed on the hot pad (the red image).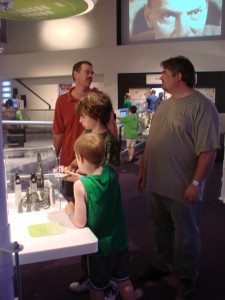 Steve along with his oldest son (John) and middle son (Scott) talking to Justin at one of the stations in the robot exhibit.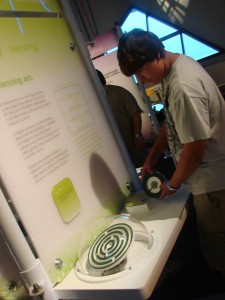 Jorden playing a game at the robot exhibit.  He was very good at it.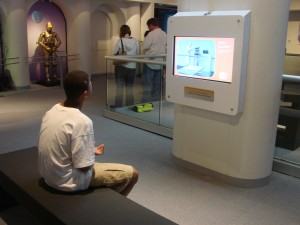 Matt learning about famous robots.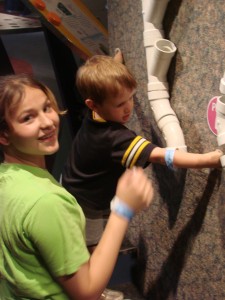 Ashely kept Steve's youngest son (Nathan) occupied.  She loved being able to spend time with her cousins.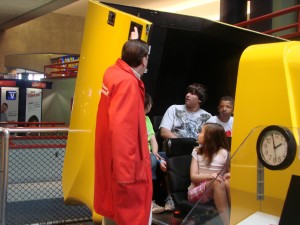 Ashley, Jorden and Matt getting in the simulator to take a ride down the Amazon in a space ship.
After about 3 hours at the science center, we left for home.  We now had about a 6 1/2 hour drive plus breaks until we arrived at the cottage near Wayland, MI.  We really wanted to make a stop at Primanti Brothers restaurant which is a famous sandwich shop in Pittsburg.  They put the entire meal between two slices of bread including fries and coleslaw.  But we were really pushing the time and Jorden wanted to make a stop for fireworks so the kids made sandwiches in the car from the cooler as we drove.  Later that evening we made a stop for fireworks and McDonalds before we hit the Michigan border.  I dropped the kids off at the cottage around 10pm to spend time with their Great-Grandparents then Justin and I went home to spend the night in our own bed.  Oh, that was nice!
We picked the kids up the next day from the cottage at 2pm then drove out to Holland as Ashley wanted to try the Grand King Chinese restaurant that she has heard so much about.  They have a stir fry mongolian grill, an open flame grill, a taco bar, huge salad bar, 6 chinese food bar stations and a dessert bar.  It is huge.   It was here that Jorden and Matt tried squid and both loved it.  Jorden made a huge plate of it and ate it all.  Yuck.  Then we went back to Wyoming, dropped Matt off at his house and picked up Jorden and Ashley's younger brother, Bryce.  We drove all 3 kids home to Manistee.  Once in Manistee, we had ice cream at the reknowned My Way Depot ice cream/candy shop famous for their "build your own sundaes".  It was absolutely fantastic…  and I would say that even if my brother didn't own it!