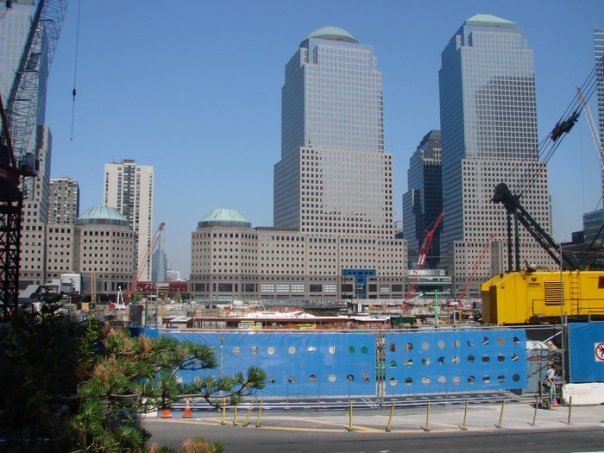 Ground Zero site where the World Trade Center buildings used to stand.  The memorial will be dedicated here on Sept 11, 2011 – the 10th anniversary of the terrorist attack.
Today we went to New York City.  It's astonishing to see how big the buildings are compared to people – it's like an oak tree compared to an ant.  We went to Ground Zero and seen the memorial that they are going to build.  We through security so that we could go on the statue of liberty, and as we went through the man said that we have knives in our  backpack and he searched the bag and confiscated the butter knives.  Then I went to the statue of liberty and we had to wait in line for an hour and a half and when I went to securtiy the line was short and I went through the metal detector.  The man told me to get out of line and then he patted me down and took my wallet from me.   After security we went and got to go on top of the pedastal.  Uncle Justin took a whole bunch of pictures.  Then we went on the ferry again to Ellis Island to take more pictures and to see where our relatives first came to.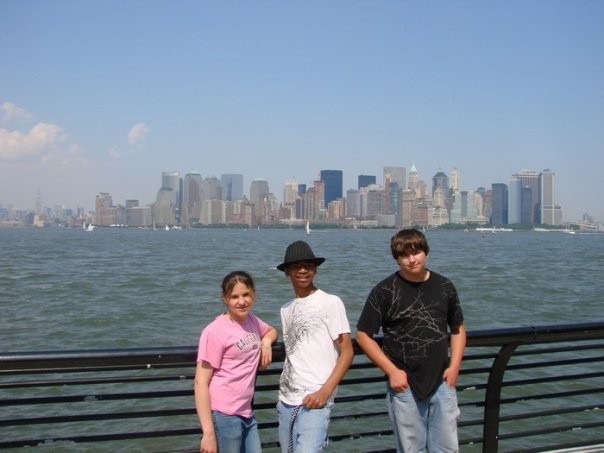 Ashley, Me and Jorden at Ellis Island with New York City as a backdrop across the Hudson River.
Then we got back to New York.  Then I got to become the navigator/the map.  I told everybody where to go on the subway, and I navigated us in Central Park, and through Manhattan.  We went to Central Park and had an delightful picnic and we spread the peanut butter with Jorden's hunting knife, since we had lost our butter knives.  Then we went and seen where John Lennon was murdered, and it was a sad moment for Uncle Justin as he finally saw the place where one the worst things in Beatle history ever happened.  Then we were late by fifteen minutes, so I had to navigated from the upper West side to the lower East side – all using nothing but a subway map.  It was very exciting as we made it to the play just in time.  It was a very interesting play.  Very unique.  I navigated us back home to the Staten Island Ferry and I fell asleep on the way home at 12:30.  ~ Matt~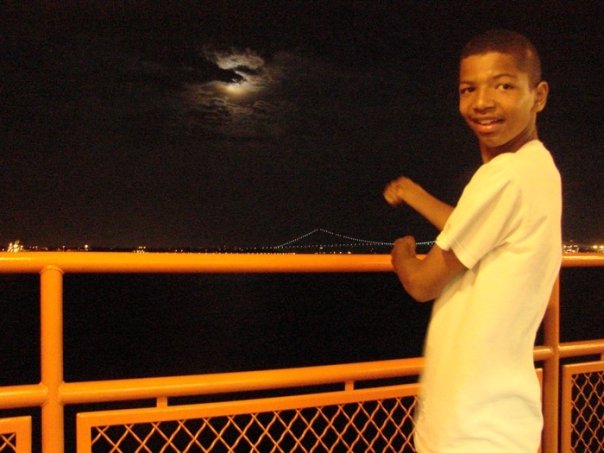 Me pointing out the beautiful moon as we ride back to Staten Island on the ferry after a busy day in New York City.  Just above the orange railing you can see the lights of the Verrazano-Narrows bridge connecting Staten Island and Brooklyn.  This is the longest suspension bridge in the world.